A PICTURE OF THE OLD CAGES ONE SIDE OF THE ROOM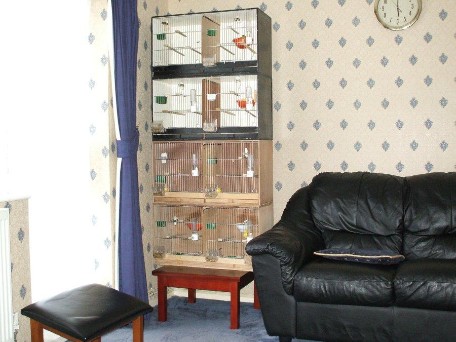 TO THE NEW CAGES ON THE OTHER SIDE OF THE ROOM PICTURE BELOW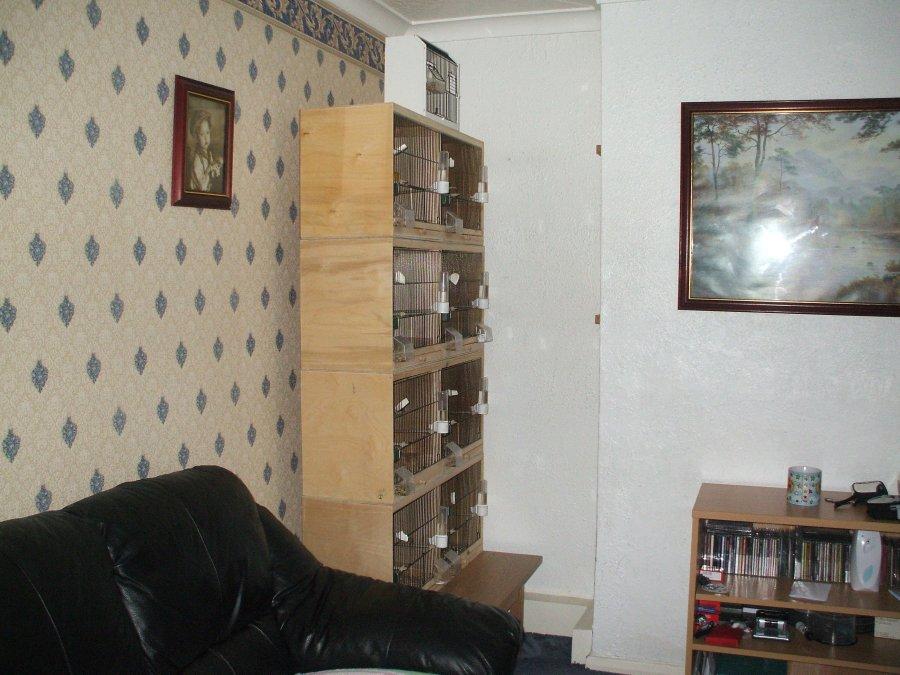 they then grew to these below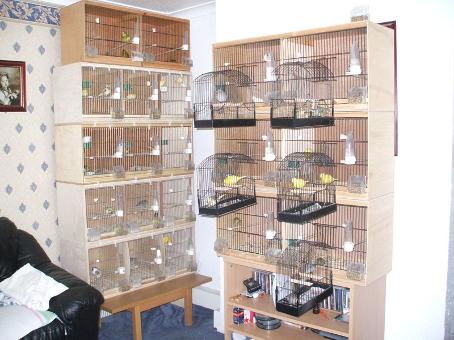 our set up has got bigger while the breeding season is here obviously due to the amount of young that we will breed.we have 10 hens and 4 cocks at the start of breeding, so our spare cages came out of hibernation,the picture below shows how it is at the moment.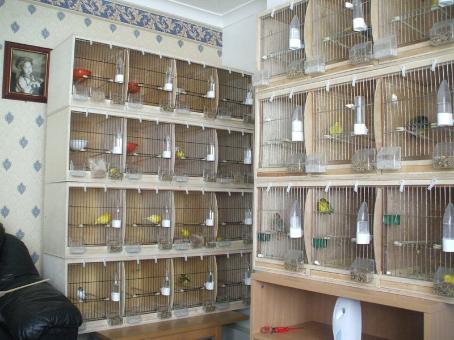 Due to space our management is a very strict one,we will only breed a certain amount of birds to wich we will keep a dozen young for the coming show season. And then at the end of the show season scale down again for the next years breeding season.keeping just around 8 to 10 hens and 4 cock birds

CANARYS AND BATHING.
All of our canarys are offered a bath every other day but that does not stop them from bathing in there drinking water, here are a few pictures of them enjoying a bath.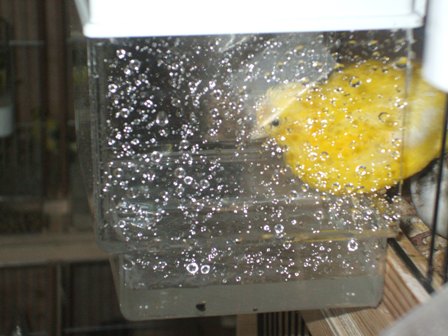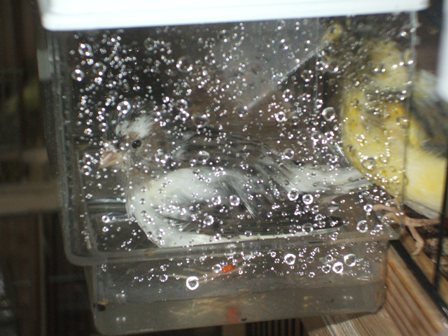 THE MIXTURE WE USE FOR REARING
When making up egg food for a couple of days this is how i make it. we use kings egg meal in which i fill a medium size coleslaw tub full to the top,i then make up 2 egg cups full of bulgar wheat making it up the same as you do cous cous,when i put the hot water to the wheat i add a small amount of honey, i then let it cool before adding it to the egg meal,i then put in the blender about 5 quarter inch pieces of cut carrot into the blender and blend till very fine,then add to the rest of the mix and stir in,i also add calcium and vitamin powder to this as well as cuttlefish bone that i scrape off the cuttlefish in powder form using a small spoon,i put it all in a sealed container and keep it in the fridge.we did give our birds soak seed at one time but have now discarded that for siskin mix,it is so much easier to use, all we do is take the egg food mix and i give them 2 teaspoons of this to 2 teaspoons of siskin mix this we give twice a day with broccoli we do not even moisten the egg food when they eat this they go take a drink so they are doing it themselves.
CAT LITTER USED IN THE CAGES
Since before the start of the breeding season i read on terry kellys website that he used cat litter in his cages,i did use paper and sand sheets in the cages but found that coming up to breeding season the hens would demolish them by tearing them to bits so i was looking for an alternative,being we have our cages inside sawdust or anything light was out of the question,so cat litter seemed to be the answer for
us,when they are not breeding and are on there normal food of canary seeds its not a problem to leave the cat litter down for as long as you feel its OK,baths are offered to our birds every other day so the cat litter will consume a lot of the water spray that comes from there bath wich in time makes the cat litter turn into like saw dust but it still does not create a problem,from when the hen lays her first egg till about 4 days after they hatch i dont change the cat litter,but every week after till the young are weaned,i use the wood based cat litter i find it lets off a nice aroma like newly cut wood,we now buy 30 litres at a time and the cost is around about £5.50 a bag
HOW TO IDENTIFY THE AGE OF YOUR BIRD
How do you tell how old your bird is, by its ring colour there are different colours for each year,below is a chart which will tell you the colours and the year
2006 - RED
2007 - BLACK
2008 - GREEN
2009 - VIOLET
2010 - ORANGE
2011 - BLUE
2012 - RED
2013 - BLACK
2014 - GREEN
2015 - VIOLET
2016 - ORANGE
2017 - BLUE
2018 - RED